Last Chance For the Riders
Zimney Last Chance
Monday's Zimney Last Chance Meet, named after long-time RR Boys Track Coach Bob Zimney, offers athletes a final opportunity to post qualifying times prior to the postseason. In the hottest meet of the season thus far, the Riders battled 85 degree temps, 15+ MPH wind, and eleven other area teams. The Riders finished atop the team standings, scoring across all event areas.  
Final Team Standings:
For full meet results and relay splits-CLICK HERE. 
If you took any photos, please add them to the collaborative album.-CLICK HERE.
Stinson Experiment Successful
Senior Carter Stinson gave the triple jump a try for the first time on Monday. As it turns out, that was a good idea. Stinson never jumped below 40' on all six attempts, including a 42'0.5 jump. The mark won the event and qualified him for the state meet. Entering Friday's Region meet, he is ranked #2 in the EDC. Junior Simon Haug also had a PR day, reaching 41'1 for a 3rd place finish. Stinson would later place second in the HJ (5'8) and third in the 4×4 to score 19.5 points, tops for any Roughrider boy Monday. 

JR vs. SR 4×4 Showdown Doesn't Disappoint 
At the previous Zimney Last Chance Meet in 2019, the most exciting race was a 4×100 battle between juniors and seniors. Both teams ran qualifying times in the same race, which was the first time in school history that such a feat had occurred. Some friendly trash-talking, as well as a 2021 team more suited to the longer sprints, provided the impetus for the 4×4 Showdown this season. A thrilling race ensued, with a strong Thompson Tommie team jumping into the mix as well. The race was even throughout, although the juniors held a slight edge with clean handoffs. Although senior anchor-leg Mustafe Abdi's fantastic 52.5 split closed some ground, no one could match junior Gannon Brooks's eye-popping 50.8 split, which edged a Tommie for first place. The split is the fastest by a RR athlete since 2016. The juniors finished in a season-best and state qualifying time of 3:31.50. The seniors clocked 3:34.70, just .46 from qualifying. Both of these performances would not have been possible without the tremendous competitive atmosphere created within our own team. One to remember! Following this inspiring race was heat 2, which featured more Rider teams. In total, seven 4×4 squads competed Monday. The coaches were on top of their game and collected all 28 splits without any hiccups. A great end to the regular season!
Last Chance 4×4 Splits
1 50.80 S F — Brooks, Gannon 11 
2 52.50 S F — Abdi, Mustafe 12 
3 53.20 S F — Zenawick, Dameon 11 
4 53.50 S F — Schiller, Tanner 11 
5 53.90 S F — Kruger, Sam 12 
6* 54.00 S F — McHenry, Hunter 11 
6* 54.00 S F — Hoefs, Morgan 12 
8 54.30 S F — Stinson, Carter 12 
9 55.40 S F — Diederich, Broden 12 
10 56.00 S F — Hoffarth, Grant 9 
11 56.10 S F — Lelm, Grant 10 
12 57.83 S F — Evans, Matt 10 
13 59.10 S F — Narum, Dylan 12 
14 59.30 S F — Hall, Abram 11 
15 59.40 S F — Jenkins, Jake 10 
16 59.60 S F — Larsen-Schmidt, Micah 9 
17 1:00.30 S F — Strand, Ben 9 
18 1:00.70 S F — Suleiman, Ibrahim 10 
19 1:00.90 S F — Schall, Isaac 11 
20 1:01.00 S F — Tchomakhidze, Ted 12 
21 1:01.47 S F — Villas, Mikko Angelo 9 
22 1:01.60 S F — Panda, Om 12 
23 1:03.00 S F — McCarthy, Max 10 
24 1:05.90 S F — Ulrich, Tyler 12 
25 1:07.24 S F — LaFountain, Kellen 10 
26 1:14.20 S F — Fossum, Bodin 10 
27 1:24.91 S F — Masa, Curtis 12 
28 1:47.30 S F — Jogi, Manish 11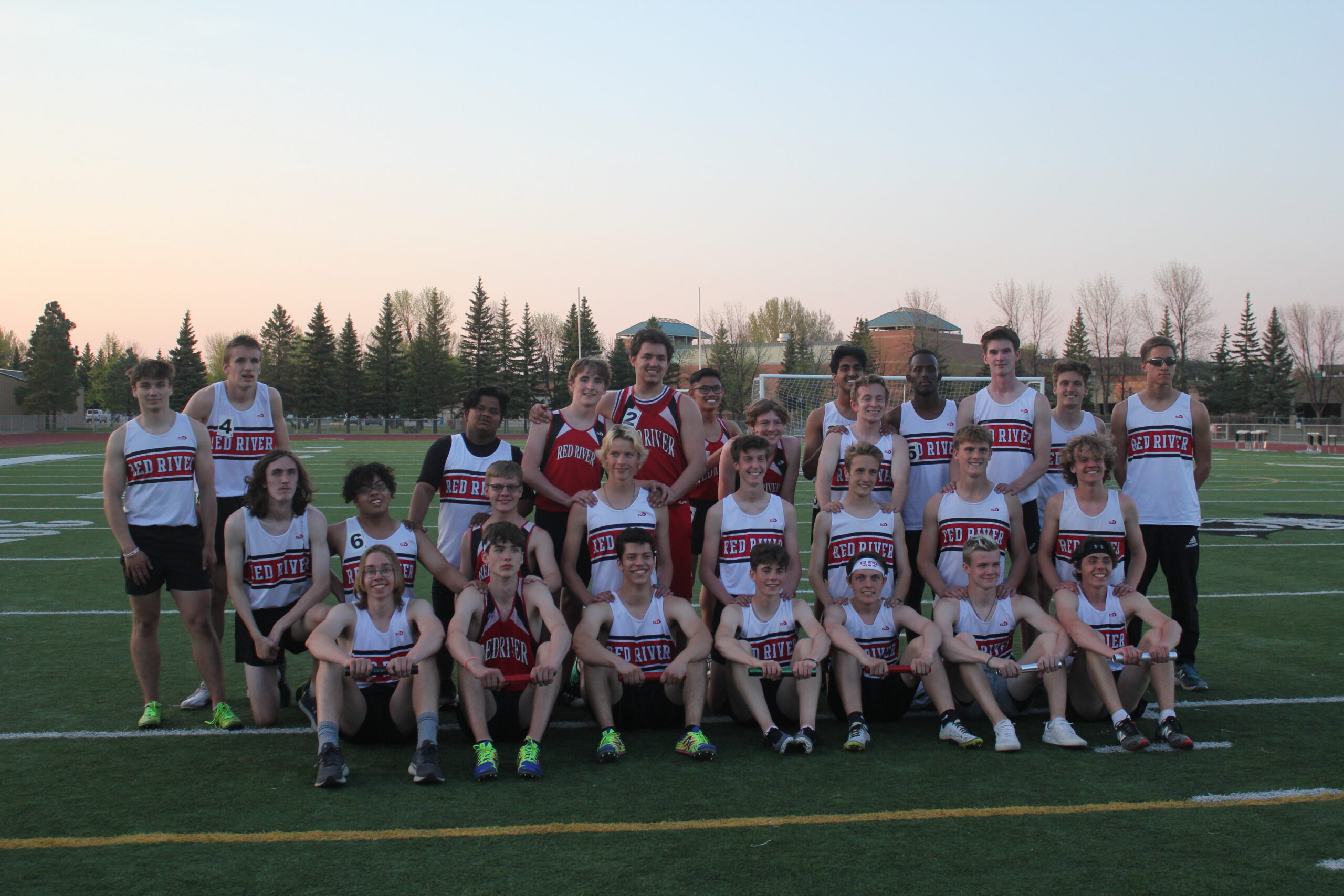 Sather Leads Throwers
Senior Sam Sather scored 11 points Monday to lead all throwers. In the shot put, he hit 48'10 to place second and finished third in the discus with a 119' effort. Heading into EDC, Sather ranks #3 in the Region. Sophomore Logan Arason won the discus with a 141'2 throw. Currently, he sits #3 in the discus and #1 in the javelin in the EDC rankings. 
Diederich Just Misses Mile
Senior Broden Diederich has already qualified in the 3200m and 4×8. On Monday, he hoped to become the seventh team member to hit the SQ standard in the 1600m. Diederich left it all on the track in Monday's heat and wind. Unfortunately, he came up just short, missing the standard by .19 seconds. His time of 4:35.43 placed second in the event. He closed off the meet with a new PR split in the 4×4, clocking 55.4 seconds. Other PR's in the 1600m came from freshman David Radke (5:08.50) and sophomore Jimmy Zumwalt (6:38.18). 
Mikko Receives High Praise
Freshmen Mikko Angelo Villas has been a locker room favorite all season with his friendly demeanor, outgoing personality, all-out effort, and unique range on the track. The Mikko Trio has become the 300m hurdles, 800m, and 4×400 relay. On Monday, by his own request, the Mikko Middle-Distance Gauntlet was created. After setting a new PR in the 300m hurdles (49.65), Mikko added the mile to his repertoire, finishing in 5:33.98. He then came back to compete in the 800m (2:26.32) AND the 4×4. An impressive effort, to say the least. 
Flom Figuring Things Out
In his first year out for the sport, sophomore newcomer Hudson Flom is still learning the intricacies of one of track and field's most technical events, the pole vault. Showing steady progress all season, he had a breakthrough at the EDC JV Meet last Saturday, clearing 10'6 and just missing 11'0. At Monday's Last Chance, Flom continued to reach new heights, clearing 11'6 and just missing 12'0. He placed second in the event. 
Brooks Qualifies, Kruger Places in Four Events
Brooks became the first sprinter to qualify in an individual event Monday when he placed fourth in the 200m with a SQ time of 23.24. He also placed fifth in the 100m (11.66), scoring a total of 11.5 points on the day. Senior Sam Kruger was the top scorer on the track, placing second in the 100m (11.55), fifth in the 200m (23.44), and third in the 4×4. For good measure, he added a fourth-place effort in the triple jump (39'9) to finish with 18.5 points. Also scoring well was sophomore Lukas Heydt, who placed third in both the 110m hurdles (16.24) and 300m hurdles (41.71-PR). He would also add a seventh-place effort in the HJ (5'4). At 159 points, Heydt continues to lead the team in scoring this season. Freshman Ben Strand (17.94) and junior Isaac Schall (18.04) also posted nice PR's in the 110m hurdles. 
East Region Friday
The next meet will be the East Region on Friday at Cushman Field. All eleven EDC schools will be present. The top six placers, as well as those who achieve the SQ standard, will earn the right to compete at the State Meet in Bismarck, held on May 28-29. 
As always, you can follow the team on Twitter (@RRTFXC) and Instagram (@rrtfxc).
QUOTABLES:
Coach Bakke: "Hey juniors, what's your team's strategy in this 4×4 against the seniors?"

Gannon Brooks: "I'm going to run a 50 second split."