A Flurry of Qualifiers in Fargo/Minot
Fargo Rotary
If you're a fan of taking home some hardware, the Rotary is the meet to do it. Annually, the Rotary Club of Fargo sponsors a track meet and gives out fantastic trophies/medals for all place winners. With the allure of great prizes and calm weather, the Riders came to play on Monday. In an overall team effort, the boys put together one of their most complete meets of the season, finishing second behind the Spuds of Moorhead. 
Final Team Standings: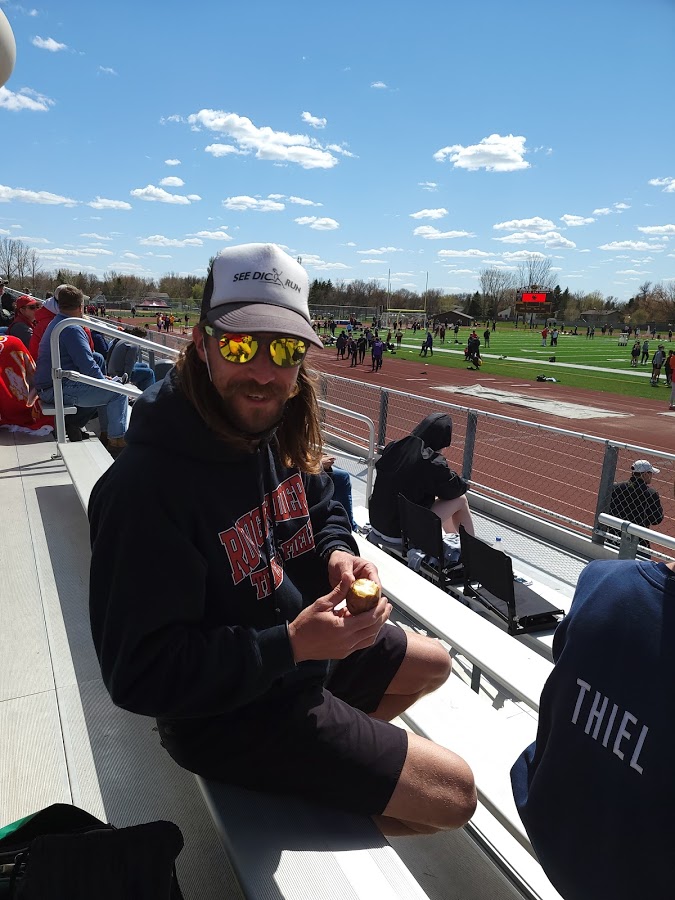 Coach Dafoe's mid-meet snack proved prophetic, as the Moorhead Spuds took home the team title. 
For full meet results and relay splits-CLICK HERE. 
If you took any photos, please add them to the collaborative album.-CLICK HERE.
Sprint Relays Finally Make It
After coming painstakingly close in past meets, the 4×100 and 4×200 relays finally put things together on Monday and qualified in both relays. The 4×2 started things off, with Mason Reynolds, Carter Stinson, Gannon Brooks, and Sam Kruger each running great splits. Their time of 1:33.42 was a big SB and currently ranks #7 in the East Region. In the 4×100, Reynolds, Carter Byron, Brooks, and Kruger clocked 44.73, well under the SQ standard of 45.44. They also rank #7 in the East. Additionally, Stinson placed third in the LJ (19'10.5) and sixth in the HJ (5'8) to score in the double digits (10.5 pts). Byron added a pair of fifth place finishes in the LJ (19'7) and TJ (39'2.5) to score nine points.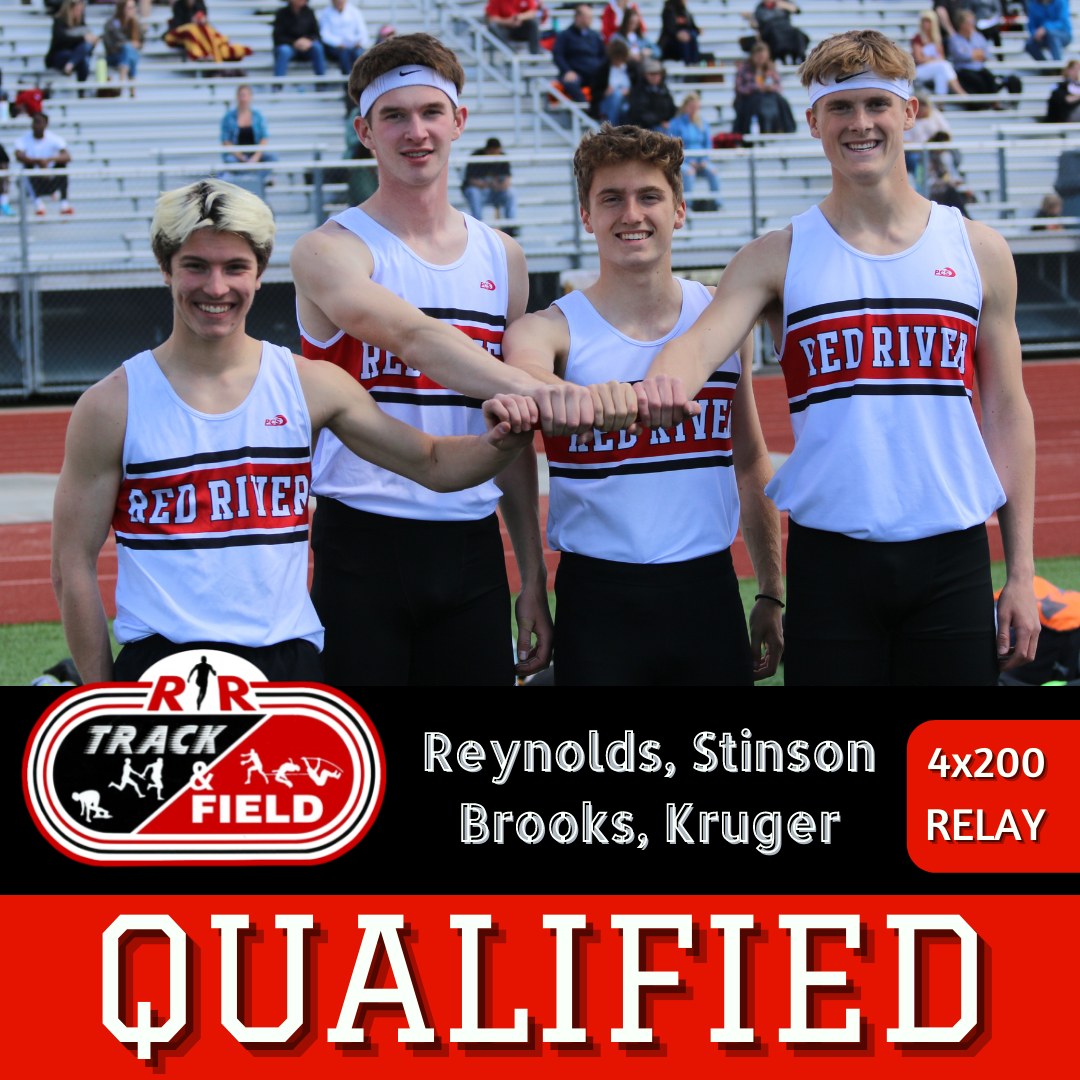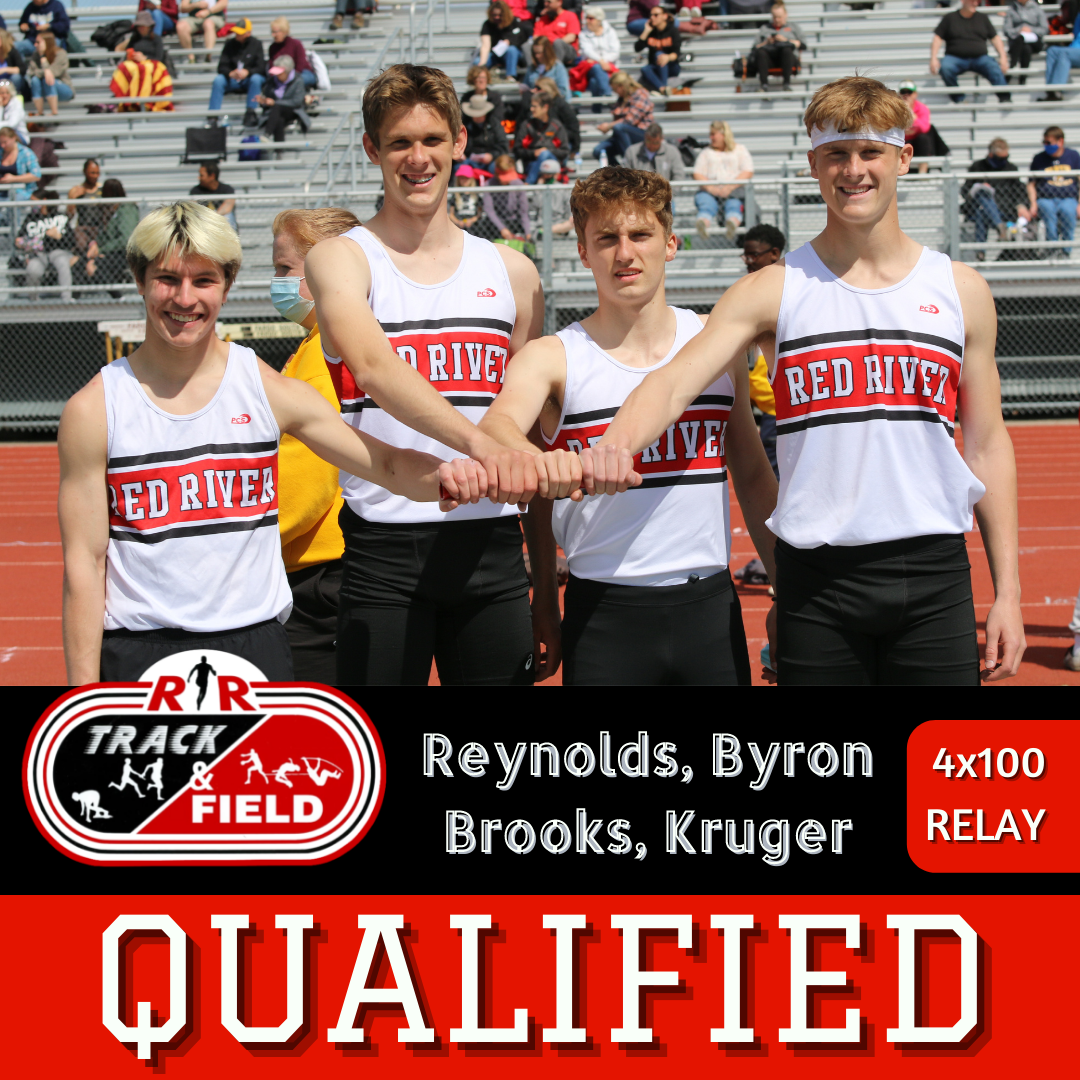 D-Krew Adds More 
For the second time this season, sophomore Matt Rongitsch won the 1600m at Fargo South. On his second attempt, he came under the SQ standard with a new PR of 4:33.80. This was the first career SQ performance from Rongitsch. In qualifying, he became the sixth team member to qualify in that event this season. The 800m also saw some fireworks, as Hunter McHenry (2:00.45) and Jonah Dafoe (2:00.59) crossed the finish line just over the two-minute barrier, hitting the qualifying standard for the first time in that event.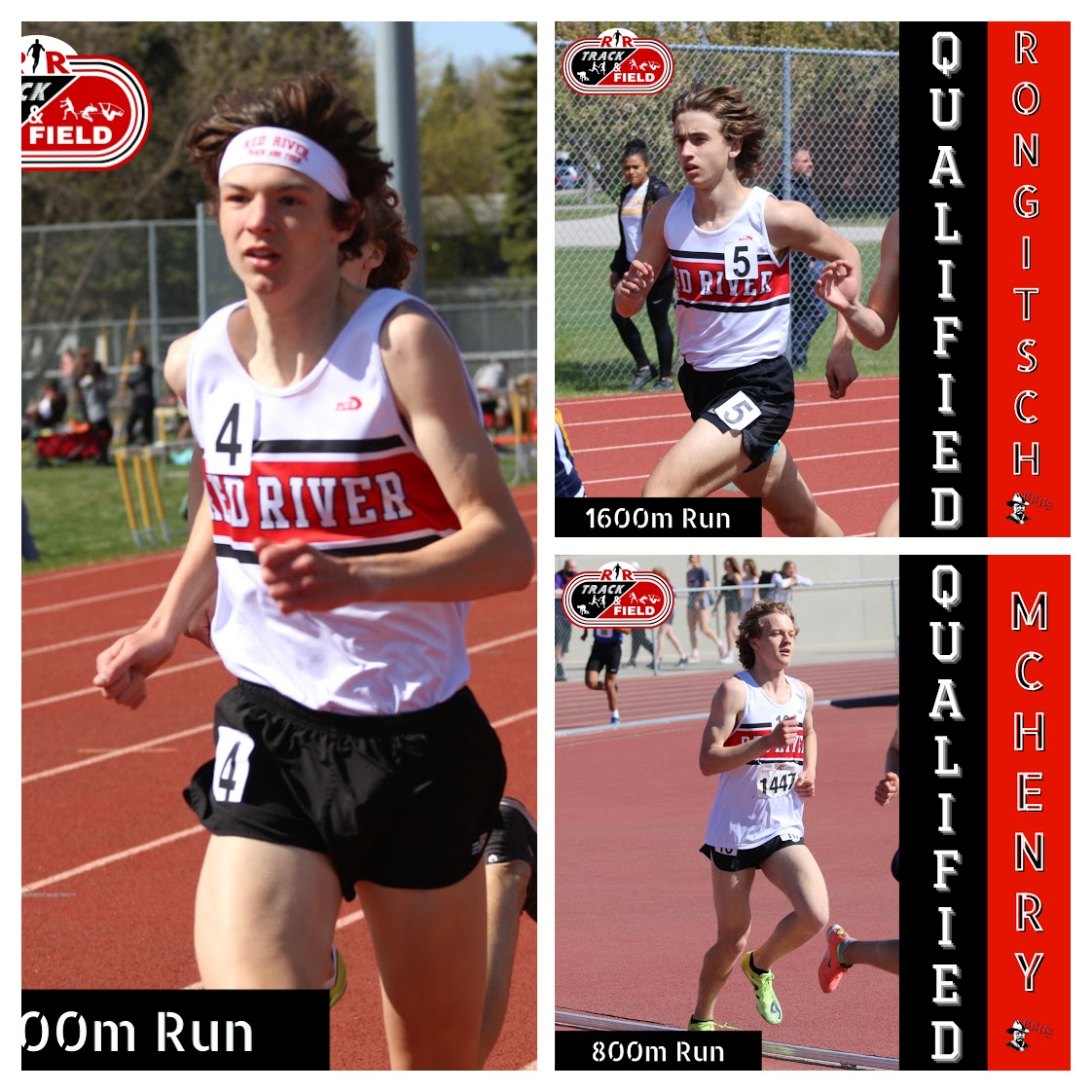 Sather Hits the Big One
Senior Sam Sather has flirted with qualifying all season in the shot put. On Monday, he finally put everything together and surpassed the standard with a new PR of 49'6. His toss placed second in the event. Currently, he ranks #2 in the East in the shot put.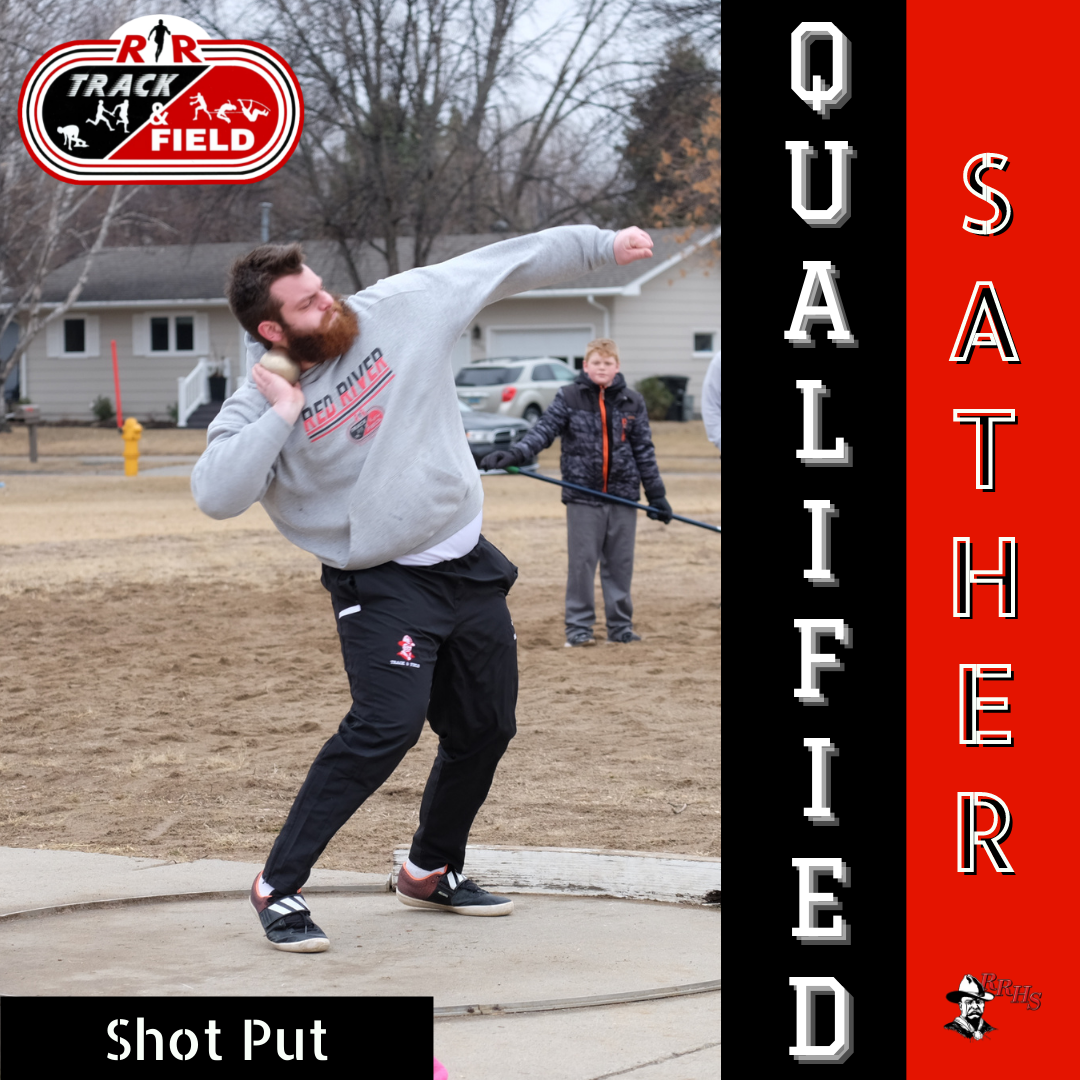 Heydt, Diederich Score Big
Sophomore Lukas Heydt, the current scoring leader, had a nice day Monday, placing in the 110m hurdles (16.60), 300m hurdles (42.71-PR), and high jump (5'10-PR). His eighteen points were tops on the team. Senior Broden Diederich (12 pts) also competed well, placing second in the 3200m (10:12.32) and fifth in the 1600m (4:38.52). Fellow senior Ryan Prusak added nine points on the day with a third-place finish in the 3200m (10:28.23) and 1600m (4:40.94). Sophomore thrower Logan Arason was the other high scorer, placing third in the javelin (155'6) and sixth in the discus (130'11). 
Radke-Orvik Classic
Once an annual showcase between the top schools in the East and West, this year's Classic turned into a mainly Eastern affair due to the glaring absence of Bismarck-Mandan schools. Despite the strange road trip to compete against familiar schools, Duane Carlson Stadium always provides a fantastic setting for a track meet. Outscoring all other teams, the boys found themselves right at home in Minot. 
Arason Wins Two
Arason got back to his winning ways in Minot, taking titles in both the javelin (169'1) and discus (147'3). Sather also produced another big throw in the SP, with a second place (48'4) effort. Also scoring in the throws was senior Tyler Larson, who finished seventh in the DT (119'7). 
Zenawick Wows All
When the wind calmed down and the sun started to shine, conditions for the mile were excellent. Junior Dameon Zenawick took advantage with a ten second PR, placing second in a time of 4:24.38. That performance is the fifth-fastest time in school history! Mustafe Abdi also managed a new PR, placing fourth in a time of 4:32.03. Both athletes teamed with Stinson and Brooks to run a state qualifying time in the 4×400 relay (3:32.86). The boys placed second in the event behind Williston. The quartet now ranks #3 in the East. With the addition of the 4×4, the Riders now have all four relays qualified for the state meet.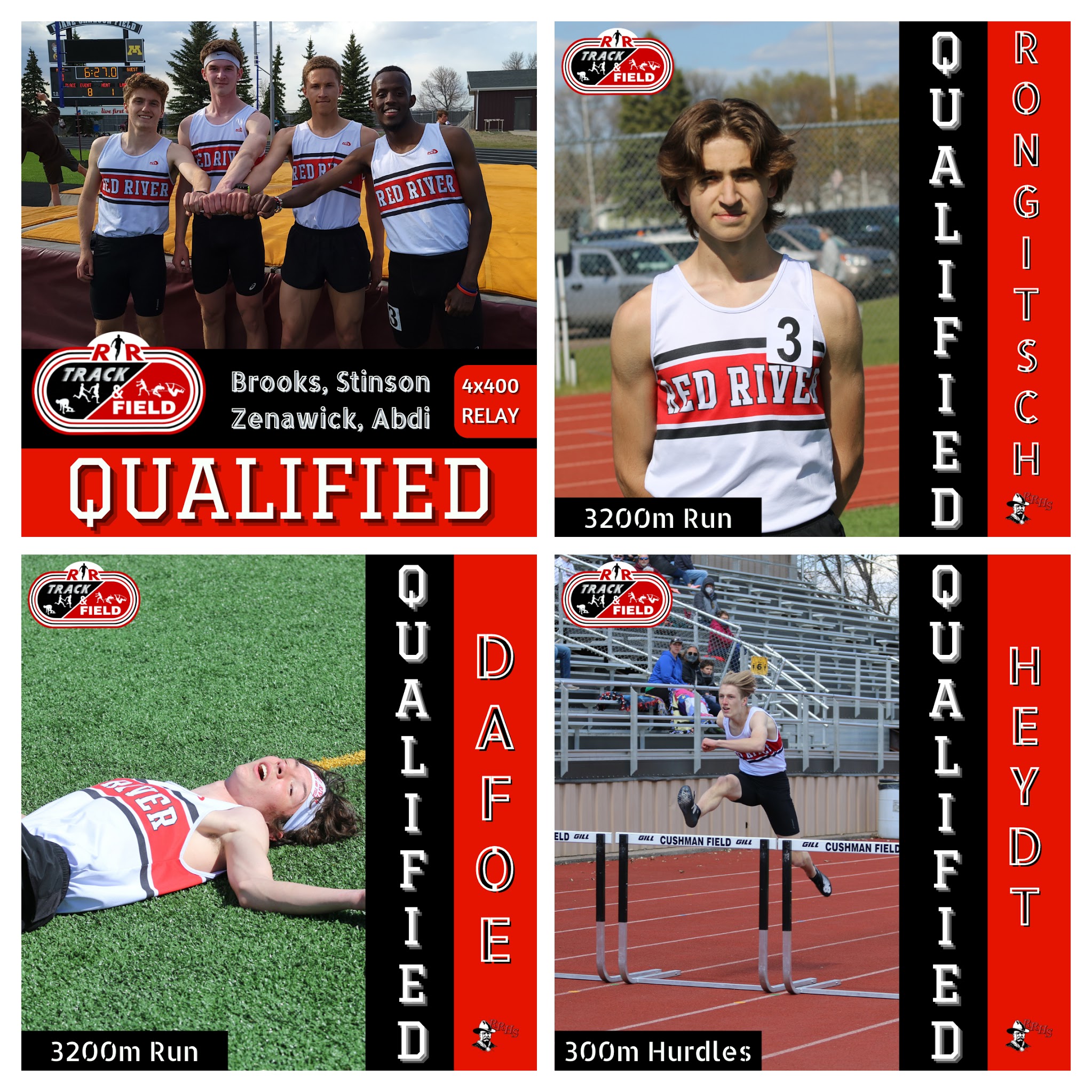 Three Sophomores Add New Events
After hitting a nice PR in the 300 hurdles Monday, Heydt bettered his time even more to place first in the event in Minot. His time of 41.98 qualifies him for state. Sophomore distance standouts Dafoe and Rongitsch added their names to the qualifying lists in the 3200m, with Dafoe (10:02.39) placing second and Rongitsch (10:04.74) placing fourth. This season, the Riders now have an unprecedented six athletes qualified in both the 1600m and 3200m, an impressive accomplishment and a testament to the fine work done by Coach Dafoe and Coach Dorsey. 
1600/3200 Qualifiers
| | | | |
| --- | --- | --- | --- |
| 1600m | State Qualifiers | Meet | Performance  |
| | Dameon Zenawick | Minot Classic | 4:24.38 |
| 2. | Hunter McHenry | Packer Relays | 4:30.68 |
| 3. | Jonah Dafoe | Packer Relays | 4:31.04 |
| 4. | Mustafe Abdi | Minot Classic | 4:32.03 |
| 5. | Matt Rongitsch | Fargo Rotary | 4:33.80 |
| 6. | Ryan Prusak | Dual vs. GFC | 4:34.61 |
3200m
State Qualifiers
Meet

Performance

 

Hunter McHenry

Howard Wood

9:38.34

2.

Dameon Zenawick

Eagle Relays

9:55.43

3.

Broden Diederich

GF Pentangular

9:56.97

4.

Ryan Prusak

Eagle Invite

10:00.41

5.

Jonah Dafoe

Minot Classic

10:02.39

6.

Matt Rongitsch

Minot Classic

10:04.74
For full meet results, relay splits, and points scored-CLICK HERE. 
EDC Boys JV
The final meet of the week was the EDC Boys JV Championships, held Saturday at Cushman Field. Warm temperatures and almost no wind brought out some great results for all of the athletes. In a great effort, the boys finished second behind Davies in the team standings.
Final Team Standings:
Strand Leads the Way
Top scorer at the meet was freshmen Ben Strand, who placed in three events and scored 17.5 points Saturday. A highlight was his runner-up finish in the 110m hurdles with a PR time of 18.90. He also placed second in the HJ (5'2) and teamed with freshman Grant Hoffarth, sophomore Grant Lelm, and sophomore Quinn Nelson to place third in the 4×200 (1:43.26). 
Grants Score Well
The aforementioned Lelm and Hoffarth each had productive meets outside of the 4×200. Lelm won the 800 in a new PR of 2:06.93. Hoffarth placed second in the 300m hurdles (45.59). Both ran legs on the first place 4×4 team, along with freshman Micah Larsen-Schmidt and sophomore Ibrahim Suleiman (3:52.47). Another bright spot in the 300m hurdles were PR's from the freshmen duo of Mikko Angel Villas (49.61-broke 50 for the first time) and Josh Neil (51.09). 
Milers Go Wild
In an exciting 1600m competition, 22 of the 25 athletes entered ran PR's Saturday. This included a 3, 4, 5, 6, 9, 12, 14 placing for the Roughrider boys. Larsen-Schmidt (3rd-4:48.66), sophomore Matt Evans (4th-4:49.57), 8th grader Elijah Dafoe (5th-4:51.28-New 8th Grade Record!), and sophomore Jake Jenkins (6th-4:54.01) scored in the event. Also dipping under five minutes was freshman Carter Rydland, who became the 15th boy to break 5:00 in 2021! The 800m (22 pts) and 3200m (29 pts) also provided huge points for the team. In the 800m, Rydland placed third (2:11.44-PR), Larsen-Schmidt was fifth (2:15.69), and Villas placed seventh (2:16.91-PR). Jenkins also PR'ed in ninth (2:19.98). The 3200m saw the Riders take the top four spots, with Evans (10:56.24) in front. 
Spear Chuckers Highlight Throwers
In the javelin, freshmen Rylan Brown hit a new PR of 128'0 to place fourth. He was followed by sophomore Hudson Kilgore (5th-127'9), and 8th grader JB Walters (6th-126'4). Sophomore Andrew Peterson (108'8), freshmen John Bjerke (90'0), and senior Curtis Masa (63'3) also set new PR's. 
For full meet results, relay splits, and points scored-CLICK HERE. 
If you took any photos, please add them to the collaborative album.-CLICK HERE.
The Week Ahead
We have come to the final week for many athletes. Some athletes will have their last competition of the season at the Bob Zimney Last Chance on Monday. Other athletes will compete at the East Region Meet on Friday. Both will be at Cushman Field. State qualifiers will continue on to the State Meet in Bismarck, which will be held on May 28-29. 
As always, you can follow the team on Twitter (@RRTFXC) and Instagram (@rrtfxc).
QUOTABLES:
"What are the 10 letters of the pirate alphabet?…Aye-aye, arrr, and the seven seas." – Coach Lloyd