State Meet Concludes 2022 Season
For the first time in ND history, the State Meet was held over three days last week. After arguably the worst spring weather of all-time this season, athletes were finally greeted to warm and (mostly) dry conditions. Numerous PR's and additions to the RR Top Ten lists were added. All told, the Riders scored 44 points to finish in 8th place. This almost triples their 15 point total from 2021.   
Final Team Scores:
1.
Century
118
2. Bismarck 85
3. West Fargo Sheyenne 75.5
4. Davies 58
4. West Fargo 58
6. Grand Forks Central 52
7. Williston 46
8. Red River 44
9. Legacy 41
10. Fargo South 38
11. Dickinson 25
12. Mandan 23
13. Wahpeton 19
14. Minot 16
15. Jamestown 12
16. St. Mary's 7
16. Devils Lake 7
18. Shanley 6
19. Watford City 4
20. Valley City 3.5
21. Fargo North 3
Day 1-Thursday
After an early departure, a stop in Valley City, and a long bus ride, a handful of events took place Thursday evening after the parade of athletes.
4x200m Relay Prelims
The team of Mason Reynolds, Caleb Severson, Gannon Brooks, and Carter Byron clocked a time of 1:31.32, qualifying for finals with the 7th-fastest time. 
Long Jump
Immediately following the 4×2, Carter Byron placed 16th in the LJ (20'2), only inches from making the final. Due to the conflicts with the relay, he received exactly zero run-throughs. 
Shot Put
At the same time as the LJ, Arason placed 13th in the SP with a toss of 46'9.
3200m Run Final
Three athletes competed here and all of them hit a new PR. Hunter McHenry lowered his own school record and placed 6th with a time of 9:25.49. Dameon Zenawick moved to #6 All-Time in school history with a new PR of 9:41.91, placing 10th. Elijah Dafoe lowered his own Freshman Record in the 3200m with a PR time of 9:50.75, placing 13th.
Day 2-Friday
Although not as warm as Thursday, Friday was overcast with occasional sun and a 10-12 MPH wind down the backstretch. 
300H Prelims
Heydt got things started on the track by placing second in his heat and qualifying for the finals in the 300H. He smoked the penultimate hurdle and used his renowned balance and athleticism to stay upright and still finish the race. His solid time of 40.74, despite the struggles, foreshadowed what could happen in the finals. 
100m Prelims
Severson placed 16th out of 37 athletes in the 100m with a time of 11.30.
1600m Final
Another race for Hunter, Dameon, and Elijah, another three PR's! For those unaware, Class A boys distance running has never been as deep as it is now. As documented in 2021, athletes are running fantastic times and not even placing in the top 8. All three of these boys ran Top Ten caliber times and only Hunter placed: 
McHenry-7th-4:20.63 (#4 All-Time)
Zenawick-9th-4:23.05 (#5 All-Time)
E. Dafoe-13th-4:27.63 (#10 All-Time, lowers his own Freshman Record)
Discus 
During the 1600m, Arason was in the midst of a dominant discus performance. After struggling with the shot put on Thursday night, he calmed his mind and let his body do the work, opening with a tremendous throw of 169'9. That would be the only throw he needed, as no one in the competition came within 12 feet of him. He bettered his mark to finish with a winning throw of 170'7. The RR boys have now won 11 discus titles with eight different athletes. Here are four of them and the years they won: Drew Thomas (01, 02), Mark Murdock (89, 92), Dave Kurtz (97), Logan Arason (22).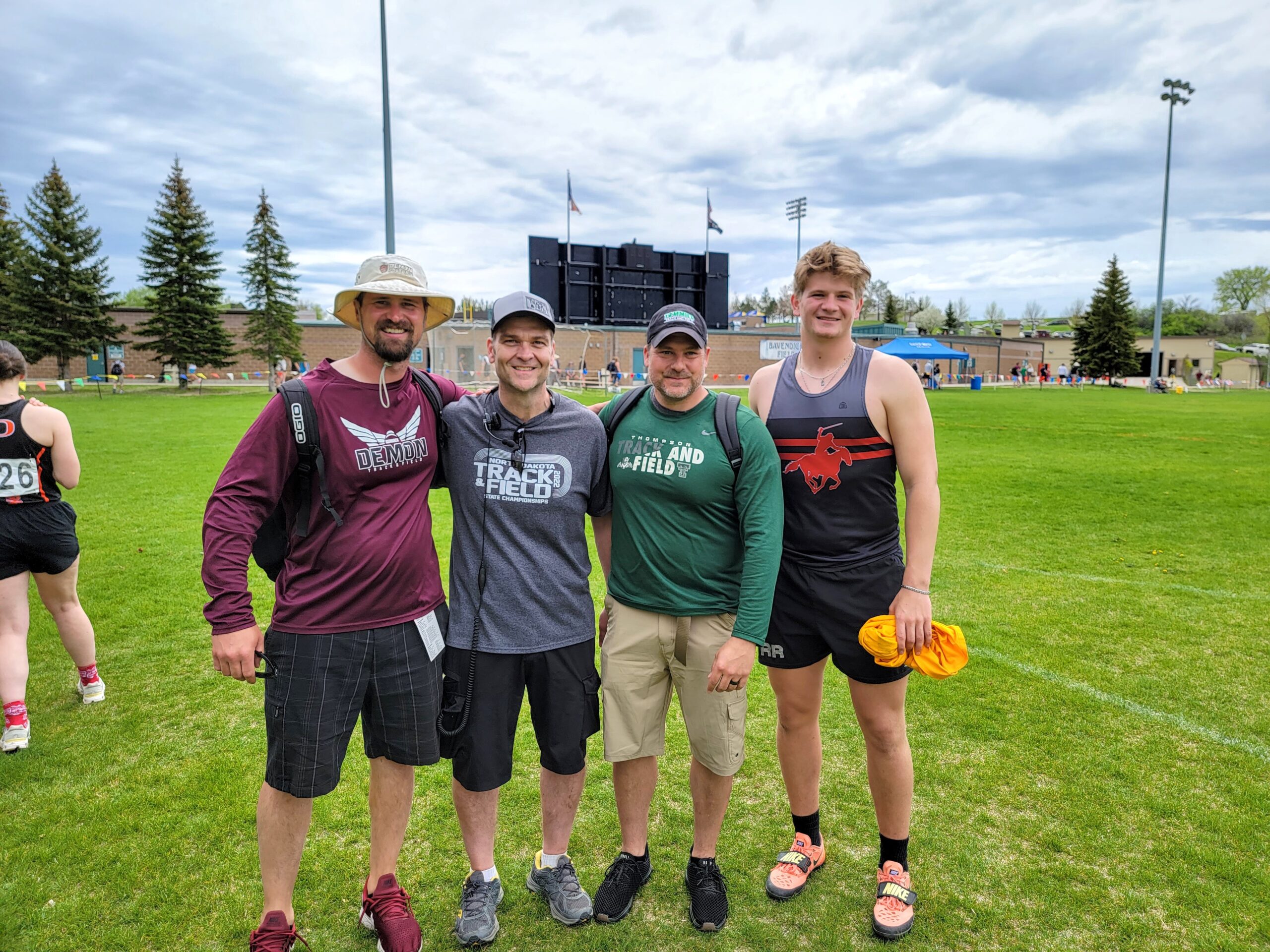 400m Prelims
Brooks ran 53.22 to place 24th in the 400m.
110m Hurdles Prelims
Both Heydt and Byron advanced to the 110H final with lifetime PR's of 15.13 and 15.65!
200m Prelims
Severson (22.96) and Reynolds (23.32) both ran the second-fastest 200s of their career to finish in 18th and 26th.
4x800m Relay Final
After McHenry, Zenawick, Tanner Schiller, and Jonah Dafoe set a new school record at the Regional the week prior, they entered the race seeded second behind West Fargo. Although it didn't turn out like they had hoped, the boys gave it their all and left everything on the track. The team finished 4th with a time of 8:03.48. 
Triple Jump
"Let me tell you a story about Simon Haug…" So begins a Delmore story that will likely be told for years to come. For the second year in a row, Simon waited until the EDC Meet to qualify for State by place. He entered the state competition with the lowest seed distance of all 26 athletes. After a first attempt foul, he was consistent on the board and proceeded to set a new PR, just under 42'. He was then forced to sit and sweat out the results of flights 2 and 3, hoping that no more than eight people surpassed his mark. That proved to be true, so he earned three more attempts with the 8th best mark of the prelims. In the finals, he PR'ed again (42'6) to jump ahead to 6th place. Other athletes also jumped well, dropping Simon back to 7th or 8th place, yet he continued to answer back with each jump. His best mark of 42'10.5 not only resulted in a 6th place trophy, it was also the 9th best jump in school history. Not forgotten, talented freshman Isaiah Gaye gained some valuable experience and hit 41'6 to place 15th. 
4x100m Relay Prelims
The 4×100 squad of Mason, Caleb, Gannon, and Mikey Mallory advanced to Saturday's final with a time of 43.92! 
Day 3-Friday
After Delmore's inspiring pep talk the night prior, the boys were ready to roll Saturday morning. 
Javelin
The first event on the docket Saturday morning was Arason and Quinn Nelson in the javelin. In Quinn's first state meet, he missed finals by less than two feet and finished 11th with a toss of 150'9. Arason hit his groove in the finals and a great battle ensued between him and Wahpeton's Ethan Manock. They traded places throughout the event and finished less than a foot from each other. Manock won with a throw of 180'1, while Logan placed 2nd at 179'3. This was Logan's second career trip to the podium in the javelin after placing 3rd as a sophomore.   
300m Hurdles Final
On the track, Heydt got things rolling with a fantastic effort in the 300m hurdles. Correcting any miscues from the prelims, he raced to a new lifetime PR of 39.57 and finished in second place. The performance ranks #6 All-Time in school history. 
4x200m Relay Final
Reynolds, Severson, Brooks, and Byron clocked a time of 1:31.37 to place 8th in the finals. 
110m Hurdles Final
Heydt placed 7th in the 110H (15.42), while Byron ended up in 9th (15.96). 
800m Final
As mentioned before, Class A Boys distance running is deeper than it has ever been. This was especially evident in the 800m, where four Riders toed the line. Jonah Dafoe set a massive PR to finish in 1:55.83. Thanks to research from ND track enthusiast Nate Peterson, we now know that in 30 of the past 41 years, that time would have been good enough to WIN state. In 2022, it was only good enough for 8th place! He just missed the school record of 1:55.51 set by Matt Gerszewski in 2002 and now sits #2 in school history. Zenawick also found some PR magic and clocked a new best time of 1:59.09 (#13 All-Time). Schiller managed the second-best time of his life in 2:00.83 and McHenry battled a foot injury in 2:03.52. The deepest 800m race in state history produced saw 19 athletes run under 2:00, which is quite the rarity in a sparsely populated cold-weather state like ND. 
4x100m Relay Final
Mason, Caleb, Gannon, and Mikey also found their way onto the podium with an 8th place finish in the 4×1 (44.08). 
4x400m Relay Final
After Jonah's herculean half-mile effort rendered him incapacitated following the race, sophomore alternate Grant Hoffarth was called on for the second week in a row for the 4×4. He teamed with Schiller, Brooks, and Heydt to post the team's fastest relay of the season (3:31.92) and place 13th. Hoffarth and Heydt both split 52.9, with Schiller at 53.0 and Brooks clocking 53.1. 
Full meet results, points, and split can be found HERE. 
Meet Photos can be found HERE. 
For the season's final Top Marks list, click HERE. 
That concludes our 2022 season. It was one of the strangest we've had in regards to weather and an abundance of newcomers to our team and sport. As a result, it was also one of the most rewarding. We saw continued improvement and a burning desire for athletes to perform their best, no matter the conditions. We had only seven seniors on the team and five at the state meet. With all of the numbers we bring back in 2023, we are excited for the future!
Quotables:
"It was really fun to be a part of some really stacked distance races, especially the mile. Watching the 800 was crazy! 1:55 and you would place 9th!" – Elijah Dafoe
"I really am going to miss these last couple of years of high school track. Running fast times and setting records is fun, but it's even better when you make friends along the way. I believe that the way that you and your teammates work together in track is something truly special. Thanks for all the great mems @rrtfxc" – Tanner Schiller

"In all seriousness, thank you so much to @rrtfxc for an absolutely amazing four (three) years. Without track I wouldn't have met so many of my greatest friends, had so many crazy times, and made some of the greatest memories and stories of my life. It only just happened but I still can not wrap my head around my stupidly incredulous run of recent, from hardly scraping by into qualifying for state at EDC (again), to being the last seeded jumper at the whole meet, to fighting for place sixth and miraculously finding a spot among the giants in the top ten all-time in Red River history. I truly can't believe it and I couldn't have done it without the greatest family I could ever ask for." –  Simon Haug