2021 Season Closes at State Meet
State Meet
After a two-year hiatus, the Riders finally returned to the Bismarck Community Bowl on May 28-29 for the North Dakota State High School Track and Field Meet. With the 2020 season lost to the coronavirus pandemic, athletes across ND took advantage of favorable weather, a huge crowd, and outstanding competition to post some eye-popping results. The Red River boys, short on experience, took 22 athletes to Bismarck. Only two had competed at the last State Meet in 2019. By meet's end, the boys totaled 15 points and placed 13th overall. With the large number of rookies on the team, this was an encouraging finish. 
Final Team Standings:
Century

195

Bismarck

77.5

Legacy

75

Sheyenne

71

Dickinson

46

West Fargo

38.5

Fargo South

37

GF Central

36

St. Mary's

33

Williston

25

Mandan

23

Jamestown

19

Red River

15

Davies

13

Wahpeton

11

Fargo North

9

Valley City

9

Minot

5

Shanley

3

Devils Lake

0

Watford City

0
For full meet results and relay splits-CLICK HERE. 
If you took any photos, please add them to the collaborative album.-CLICK HERE.
Event Breakdown-Day 1
300m Hurdles-Prelims
Sophomore Lukas Heydt was the first Roughrider to compete Friday. In the 300m hurdles, he ran a PR of 41.48 and placed 11th, just .06 away from advancing to the finals on Saturday.
4x200m Relay-Prelims
The team of sophomore Mason Reynolds, senior Carter Stinson, junior Gannon Brooks, and senior Sam Kruger clocked 1:34.19 Friday and placed 11th, just two places from advancing to Saturday's finals. Stiff headwinds on the homestretch impacted the quality of the handoffs and first and third leg's splits. 
4×2 Splits

1. Mason Reynolds

24.3

2. Carter Stinson

23.7

3. Gannon Brooks

23.4

4. Sam Kruger

22.7

TOTAL

1:34.19
Triple Jump
Stinson, Heydt, and junior Simon Haug all competed in flight one of the triple jump Friday. Heydt, after running a PR in the 300m hurdles, and Haug, dealing with lingering leg pain, both jumped a little under their expectations but gained valuable experience, each reaching a distance of 38'10. Stinson managed a 42'0 effort to sneak into the finals in ninth place. He reached 42'1 for a slight PR on his fourth attempt, although he stayed in ninth place, only 2.5 inches behind placing. Those with a close eye gasped at his fifth attempt, which saw a monster effort into the sand. Unfortunately, the jump was ruled a foul, with his toe barely crossing the line. His final attempt was solid, but just under 42'0. Most estimate that his fifth jump would have been well past the 43'0 mark. Regardless, it was an impressive performance for a guy triple jumping in his third meet. 
1600m Run
Dafoe's deep D-Krew qualified six athletes in this event. Four ran new PR's while battling the wind. They were led by junior Hunter McHenry, whose time of 4:27.09 placed 12th and moved him to #8 all-time in school history. Other Riders included sophomore Jonah Dafoe (15th, 4:30.71, #19 all-time, #2 for sophomore), senior Mustafe Abdi (16th, 4:30.84, #20 all-time), sophomore Matt Rongitsch (17th, 4:31.70, #3 for sophomores), junior Dameon Zenawick (4:33.75), and senior Ryan Prusak (4:38.86). As mentioned in prior recaps, ND is in the midst of the greatest distance running quality the state has ever seen. The state meet record was set by Bismarck's Sean Korsmo (4:12.16), while 4:21.96 placed 9th in 2021. In most years, a time like that would win the meet and Hunter's time would easily place. Not the case this season. 
400m-Prelims
Brooks faced a stiff headwind for his first 200 and then gutted his way to the finish line in 52.48. He placed ninth and advanced to the finals on Saturday. 
Discus Throw
Sophomore Logan Arason competed well, hitting a distance of 144'10 and making finals. As was the theme for so many Riders Friday, he finished just outside of placing, ending in ninth place. 
110m Hurdles-Prelims
The sophomore duo of Heydt (16.06) and Carter Byron (16.12) both raced the high hurdles Friday. Each finished near their PR's but failed to make finals. 
High Jump
Byron failed to clear the opening height of 5'8 Friday, which was just two inches shy of his personal best. 
4x800m Relay
After a record-setting performance at the East Region meet, high hopes were placed on the 4×8 team. The boys responded with the sixth-fastest time in school history and a third-place finish. With only one senior in the lineup, high hopes continue on towards next season. 
4×8 Splits

1. Jonah Dafoe
2:01.2
2. Dameon Zenawick
2:00.2
3. Hunter McHenry
2:00.9
4. Mustafe Abdi
2:01.2
TOTAL
8:03.58

4×100 Relay-Prelims
The 4×1 team of Reynolds, Byron, Brooks, and Kruger raced to a time of 45.15 (14th) in the prelims. They finished fourth in their heat after a great anchor leg from Kruger (clocked at 10.65 for a split). 
Event Breakdown-Day 2
Shot Put
Senior Sam Sather opened the competition for the boys on Saturday in the shot put. His best effort was 46'5, which wound up 15th overall. 
3200m Run
Saturday saw the winds die down and the moderate temperatures roll in. This created fantastic conditions for a two-mile race and the results proved it. In what was the most outstanding distance race in ND history, three athletes broke the state meet record and two athletes broke 9 minutes. The 9th place finisher ran a time that would have WON 32 of the last 47 Class A Boys 3200m races. Check out this thread for a great recap of just how fast runners in ND were this year. Just as in the mile, the Riders ran great Saturday, with three of four athletes hitting a new PR. McHenry finished 12th in a PR time of 9:38.07 (#4 all-time, #2 for juniors). Senior Broden Diederich went out hard and held on to finish with a nice PR of 9:47.82 (#9 all-time) and place 15th. Rongitsch clocked 9:49.71 (#12 all-time, #2 for sophomores) to finish 16th. Prusak ended up 27th with a time of 10:07.77. 
400m Dash-Finals
As the last one to make the finals, Brooks had lane 9 Friday. Both he and GFC's Wyatt Mutzenberger in lane 8 opened strong with a fast first 200, much to the surprise of their competitors on the inside. Rounding the curve, Brooks and Mutzenberger battled each other down the backstretch, ending in a photo finish for 7th/8th. In the end, each received a time of 51.44, with Mutzenberger given the edge after looking at the thousandths. With the 8th place finish, Brooks became the first RR boy to place in the 400m since Matt Loehr in 2010.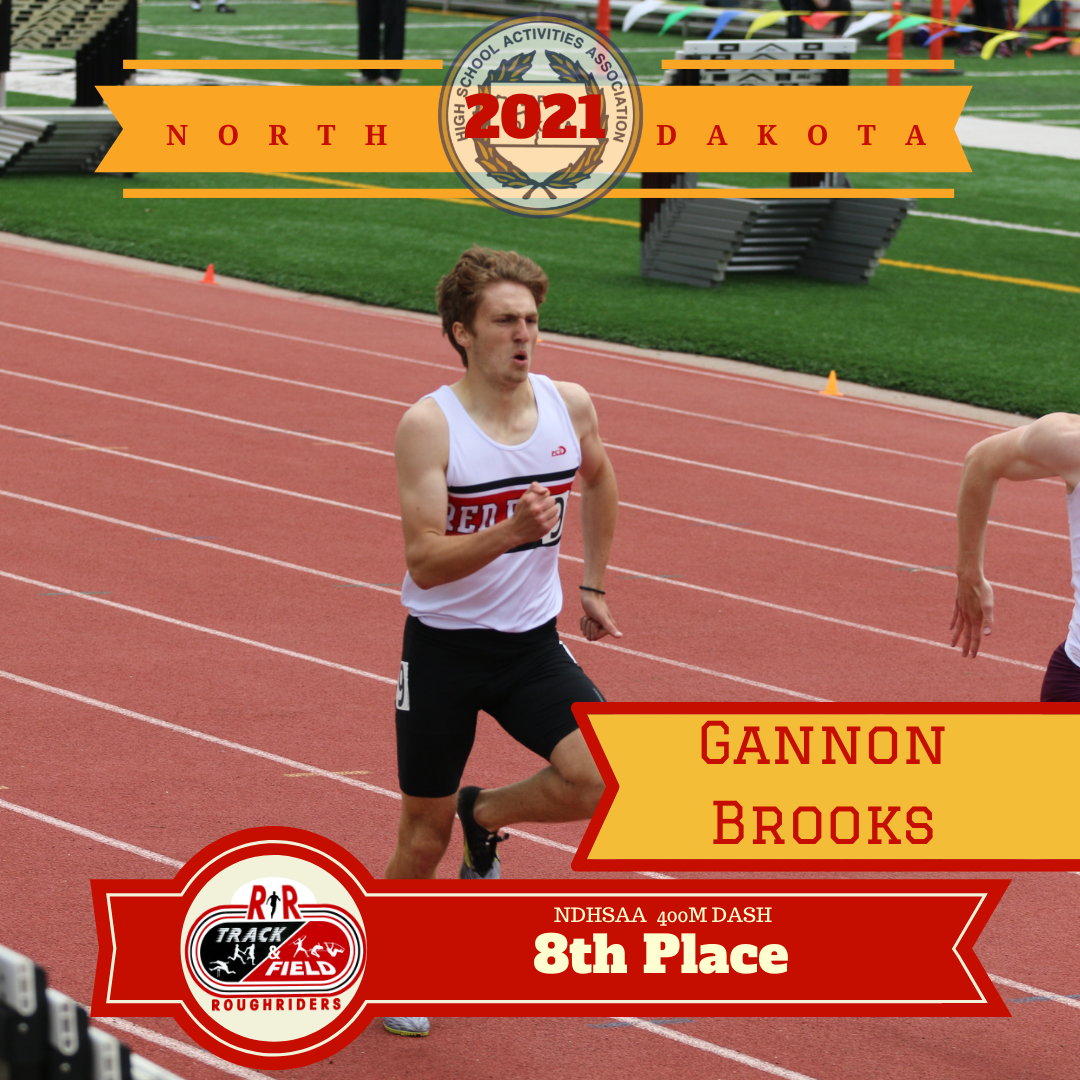 Javelin Throw
Arason entered the meet with the state's top throw, although he has dealt with lingering elbow injuries all season. In the prelims, he threw under his expectations, barely sneaking into finals. He stayed in ninth place with his fourth and fifth throws. On his final attempt Saturday, he finally unleashed the throw he was looking for and moved into third place with a 168'5 toss. A great end to a tremendous season for the promising sophomore.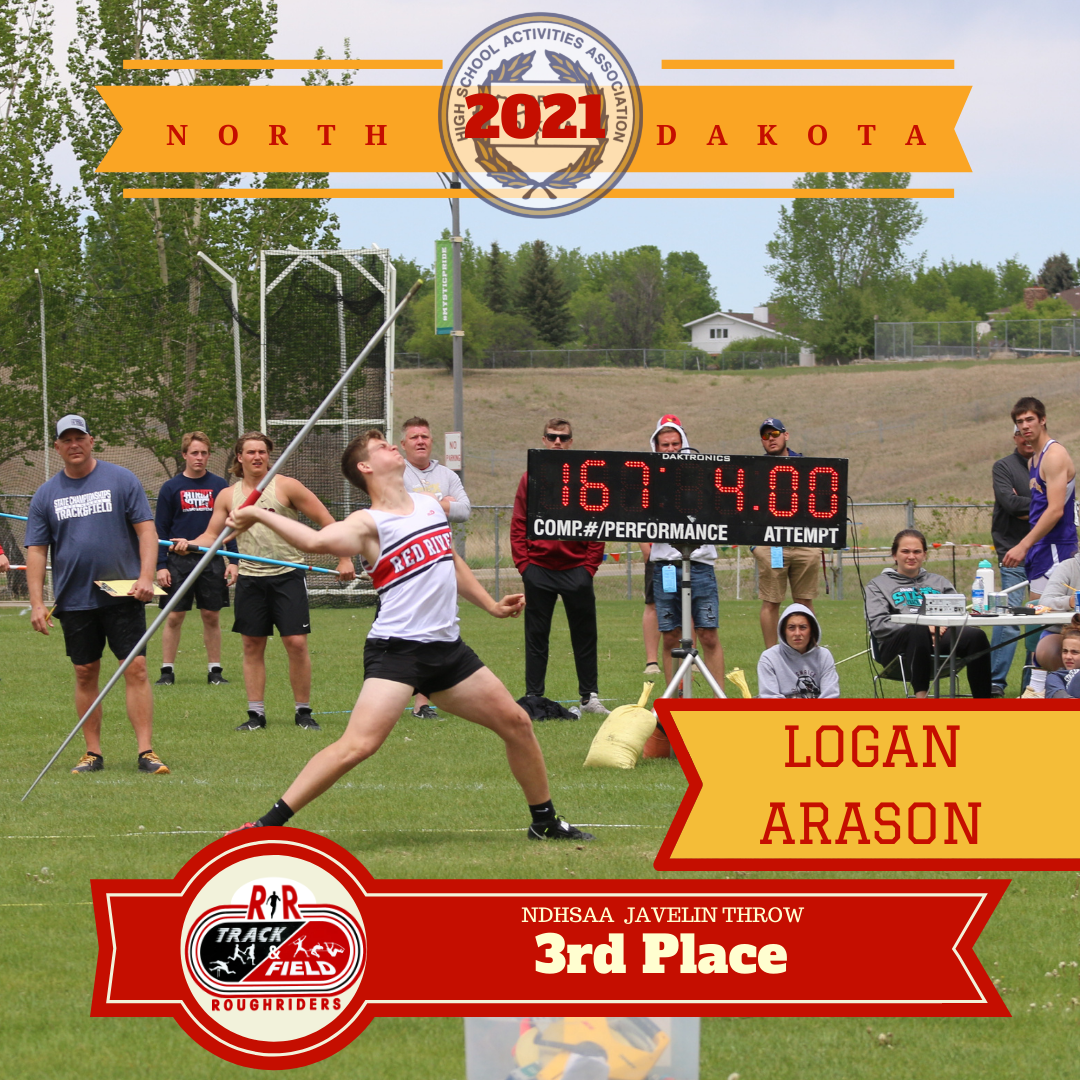 800m Run
The State Meet's final distance event is always the 800m, so many athletes are competing in their fourth event by this time. Zenawick was the top finisher, breaking 2:00 for the first time in a PR time of 1:59.30 (11th place). This is #13 all-time. Abdi also managed to break the 2:00 barrier with a PR effort of 1:59.82 (13th, #15 all-time). Also competing were Dafoe (21st-2:02.76) and McHenry (29th-2:05.98).
4x400m Relay
Throughout the whole week of the State Meet, the coaching staff went back and forth on who should run the 4×4. The only guarantee was that Brooks would anchor. Zenawick and Abdi both ran at EDC and would be available, but who knew how fresh they would be after a long two days of distance racing. In the end, the coaches decided to go with a fresh group of athletes. This was ultimately finalized after a classy move from Abdi, the senior who willingly volunteered to let other guys run and give them a shot. The move paid off as junior Tanner Schiller, and the senior combo of Stinson and Kruger each ran phenomenal splits before handing off to Brooks, who powered home in a convincing win of the first heat. The boys had to wait out the faster second heat and see if they beat any teams to make the podium. Their time of 3:30.99 wound up 7th and earned the four a trip to the podium. For four guys in their first full season of track and field, this was an incredible way to close the season.  
4×4 Splits

1. Tanner Schiller
53.1
2. Carter Stinson
53.2
3. Sam Kruger
52.6
4. Gannon Brooks
52.0
TOTAL
3:30.99

Up Next 
The only thing left for the boys is the End of Season Awards Night, which will be held on Wednesday evening at 6:30 PM (Lincoln Drive Park). 
As always, you can follow the team on Twitter (@RRTFXC) and Instagram (@rrtfxc).
QUOTABLES:
"The depth of [having] above average 400m runners was significant." -Coach Dafoe 

"Going into the season, we were unsure if we'd even qualify a 4×400 for the state meet. To not only put together a state qualifying relay of all first year runners, but to also place it as well is amazing and one of the things I'm most proud to have been a part of in my life." -Junior Tanner Schiller

"My high school state meet experience was great; it was a pleasure and honor to represent Red River Track and Field. I love how everybody was so welcoming and determined to help each other make it a great experience." -Senior Mustafe Abdi

"The State Meet is on a whole different level than any other meet. If I didn't have the opportunity to go to Howard Wood and get that experience there I would've been so nervous. As a 4×8 team, we performed very well. We were almost able to run a new PR even after all of us had run the 1600 earlier that day. Being able to make the podium was amazing, and to be up there with teammates was even better." -Sophomore Jonah Dafoe 
"There were a lot more people than I thought would be there and it was cool to see the best athletes in the state compete against each other and put up times and distances I've never seen." -Junior Gannon Brooks